Happy MLK Day.
I hope you're enjoying the day off.
The sale of the Sacramento Kings is official as of this morning.
The NBA, the Kings and the Hansen-Ballmer Group have all made statements confirming the pending sale.
We are a few short steps away from having professional basketball back in the Emerald City.
In celebration of the pending sale here is a post featuring my all-time starting lineup for the Supersonics:
PG – #20 Gary Payton – 1990-2003 – Perhaps the easiest decision in the starting lineup. He is the Sonics all-time leader in points, assists, and three pointers. "The Glove" was named to the all NBA team nine times.
SG – #32 Fred Brown – 1971-1984 – This choice was a little more difficult. Brown played all 13 seasons as a Sonic. He is second all-time in points scored and games played. He was also captain of the only major Championship team Seattle has ever had.
F – #40 Shawn Kemp – 1989-1997 – I still remember where I was when the news came out that the "Reign Man" had been traded. I was so sad. To make matters worse Vin Baker replaced him. He was a five time NBA All-Star and averaged a double double (Points & Rebounds) for six years as a Sonic. Not to mention he's a top 10 all-time NBA dunker.
F – #24 Spencer Haywood – 1970-1975 – He is commonly referred to as Seattle's first sports star. He came to the Sonics from the ABA and made an immediate impact. He still holds the Sonics' record for points and rebounds per game (29.2 / 13.4).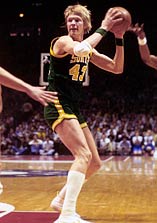 C – #43 Jack Sikma – 1977-1986 – Everything within me wanted to go with "Big Smooth" Sam Perkins but the numbers don't warrant it. Jack was the starting center for the 1979 title team as well as averaging a double double for seven straight years. He's the Sonics top rebounder and  is third all-time in points.
________
Well… how'd I do?
Did I miss anyone?
Ray Allen? Gus Williams? Detlef?
Please comment with your starting five.