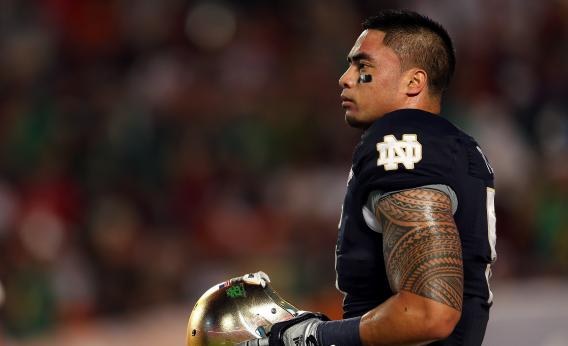 The Manti Te'o story is developing still and getting weirder and weirder.
If you're out of the loop, here is the simplified version.
Manti's girlfriend died during the season, yet he overcame it and was the emotional leader of his team.
One problem, she didn't die.
Second problem, she never existed.
Many more problems, he may have been in on it the whole time.
It's absolutely crazy.
All this got me thinking about the weirdest sports stories I've been around for.
Here are a few of my favorites.
5. Rosie Ruiz "Wins" Boston Marathan – 1982
Only she didn't win. Witnesses say she broke through the crowd with less than a mile to go.
She was actually crowned champion amid rampant speculation:
Men's winner Bill Rodgers, who had just won his third straight Boston Marathon, noticed that Ruiz could not recall many things that most runners know by heart, such as intervals and splits. Other observers noticed that Ruiz was not panting or coated in sweat, and her thighs were much flabbier and fatter than would be expected for a world-class runner.
Hahahaha. It was a nice try.
4. Danny Almonte Isn't 12 – 2001
In 2001, Danny Almonte led his Bronx, New York team all the way to third place in the Little League World Series when he pitched the first perfect game since 1957, but a conflicting birth certificate surfaced during his team's run.
His family's copy stated that he was born in 1989, but his Dominican home town's official copy stated he was born in 1987, making him two years too old for eligibility.
His pitching feats were erased from the record books and the Rolando Paulino All-Stars were forced to part with their accolades.
3. Tiger's Thanksgiving Nightmare – 2009
What can you say about this whole thing?
It was sad, strange and down shocking all a the same time.
2. Baseball's Steroid Era
Name one of your favorite baseball players from the mid nineties through 2005 and chances are they were connected in some way to one of the worst scandals in sports.
In 2005, José Canseco published Juiced: Wild Times, Rampant 'Roids, Smash Hits & How Baseball Got Big admitting steroid usage and claiming that it was prevalent throughout major league baseball.
When the United States Congress decided to investigate the use of steroids in the sport, some of the games most prominent players came under scrutiny for possibly using steroids.
These include Rafael Palmeiro (pictured right), Barry Bonds, Jason Giambi, Sammy Sosa, Roger Clemens, Mark McGwire, Alex Rodriguez and many more.
I love baseball and I hate this sports scandal.
1. Nancy vs. Tanya – 1994
The leg bone is connected to the knee bone, and knowing that, American figure skater Tonya Harding calculated that it would be more difficult for her rival to compete if she hired a man to take out her knee.

Harding hired Shane Stant to put fellow American Nancy Kerrigan out of commission at the 1994 U.S. Figure Skating Championships, paving the way for Harding's victory. Soon after, her ex-husband cut a plea bargain deal in which he spilled the beans of their scheme to implicate Harding.

When her time came, she had no choice but to plead guilty and received three years of probation, a $160,000 fine, a ban from U.S. figure skating, and was stripped of her 1994 title.
This story is an all-timer. Super weird and unlikely to be duplicated.
What did I miss?
What is the weirdest sports story you've ever come across?